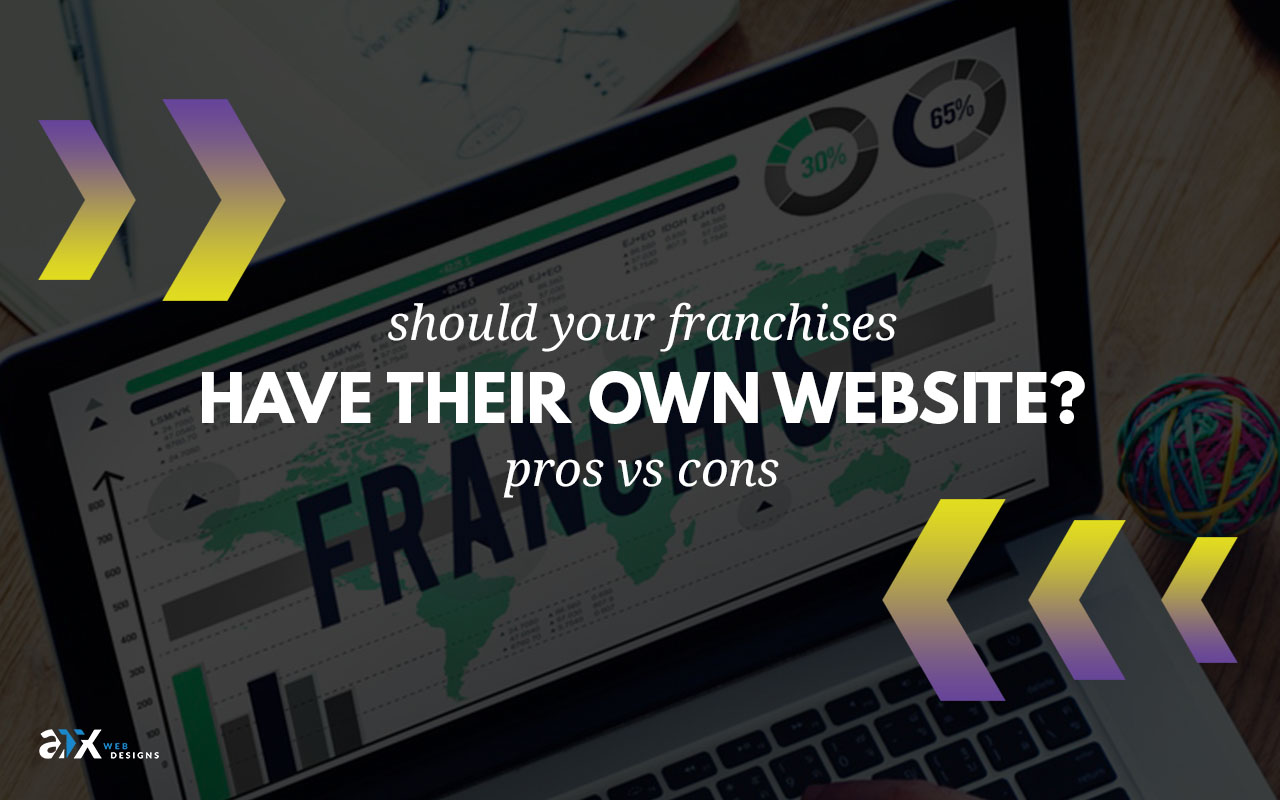 Should Your Franchisees Have Their Own Website? Pros vs Cons
Is It Good When Your Franchisees Have Their Own Website?
Individual websites for franchisees is the thing that divides the franchise industry into two camps. Some franchisors prefer to retain central control and keep all franchisee sites under one domain, while others choose to give their own domain or sub-domain name to each of their franchisees where they can run their website and have their own online marketing activities. But which way is better? Let's find out it.
One Domain for All Franchisees under Central Control
This approach allows the franchisor to retain full control of the franchisees' websites under one domain name (e.g., cars.com). Franchisees don't have their separate websites where they can update information; they also can't run their own digital marketing efforts. The individual details of the franchisee's location such as contact details, maps, and address are located on the main website.
Unique Domain for Every Franchisee
This approach gives every franchisee an individual website with a unique domain name that will be used only for this individual franchisee. In this way franchisees will be able to run their own web site as they like, and even delegate digital marketing campaigns to a third party if they need or want.
Well, there are two basic camps; let's try to dig a little deeper into the pros and cons of each of them.
One Website for All Franchisees
Advantages
– It's easier to maintain brand story, because the franchisor retains control over all information that is published under the brand's name.
– Combined strength of the business. This is highly important to Google as the giant search engine moves its accent more in the direction of brands and brand mentions. The websites of big and well-known companies will exceed the websites of smaller businesses. As a result, your website becomes stronger when you maintain more content under the one domain name.
Disadvantages
– This technique makes the franchisor responsible for the digital marketing campaigns. This fact can become a problem without a strong and coherent strategy. It can also put off potential franchisees if they consider your online marketing efforts weak, while at the same time they may not be able to run digital marketing campaigns by themselves due to the restrictions in the franchise agreement.
Separate Website for Each Franchisee
Advantages
– Having separate website that is targeted solely to one specific geographic location could make it more relevant in Google's eyes.
– This allows franchisees to invest in their own digital marketing campaigns in the way they see fit, removing responsibility away from the franchisor.
Disadvantages
– This technique will work against franchisees who are less technically savvy and those ones who just want to run their franchise. And this could put them off signing a contract with the franchisor.
– It's harder to maintain brand story, because the franchisor doesn't control content that is published online under brand's name. Mistakes that could be made, could be too costly.
– Having own domains for each franchisee will reduce the overall strength of the main website as well as it will divide the strength of the franchise network.
So Which Approach Do You Prefer?
Finally, franchisees are buying the business, and they need to know that their online business will be successful. And they will lose out to competitors if the digital marketing efforts of the business are not sufficient.
Like the concept of franchising itself, business' online presence can be made stronger by the combined efforts of franchisees, that's why keeping everything under one website allows combining strength that will help the brand itself as well as each individual franchisee. Having individual websites for each franchisee can cause to diluting the brand and diluting the website's strength in the eyes of Google.
But before franchisors start insisting their franchisees have to follow their digital marketing strategy they need to ensure that their strategy is good. Franchisor's wish to retain control and keep brand story isn't a reason to stop franchisees from having their own websites, domain names, and implementing their own online marketing campaigns. The franchisor should actively promote the business online; they need a coherent strategy that does all the best for franchisees.
This will show potential new franchisees that they've made the right choice with the franchisor, which will help them grow their business. Who would invest in a business where the investor is not allowed to work on his online presence and at the same time the franchisor isn't doing anything about it either?
So, the answer to this question is that both camps are right, depending on the franchisor's position and attitude to the Internet and digital marketing. In the case when a franchise business isn't proactive in digital marketing, and there aren't any intentions of engaging an SEO company, the franchisor should give his franchisees freedom in the issue of promoting their businesses online. Stopping the franchisees from doing that without real reasons, and decent strategy, could hurt both the franchisor and the franchisees as well.
But if the franchisor invests in digital marketing, then he can take the initiative and show his franchisees how it can be done. It is true that strength is in unity, especially when it comes to websites. The website should become stronger with each new franchisee.
ATX Web Designs clients includes franchises such as MiPhone Doctor of Austin which is an iphone repair store with locations is both Austin and Waco, Texas area.
Do you have a franchise or a franchisee? We'd love to have a chat with you and see how we can help grow your franchise online by web design and internet marketing. Contact Us to receive more information.