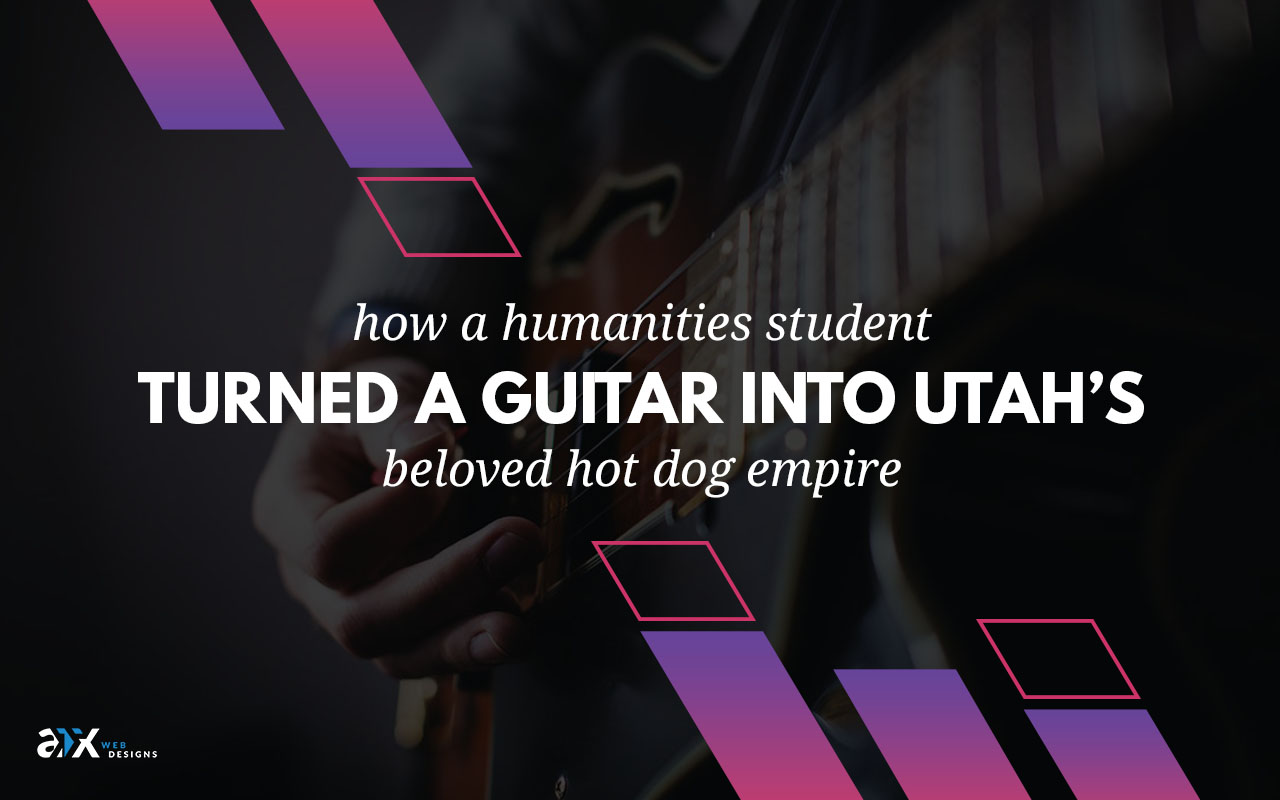 How a Humanities Student Turned a Guitar Into Utah's Beloved Hot Dog Empire
For the month of February, we're talking all about college student entrepreneurs. Our 4-part series looks at four very different businesses started by studentpreneurs and the key takeaways that can help you in your business. Questions? Suggestions? Want to us to feature your business? Drop us a line! anna@atxwebdesigns.com.
Who: Jayson Edwards
What: J Dawgs, a hot dog restaurant from Provo, UT
Where: Brigham Young University
The Problem: The city didn't have a great hot dog place.
The Solution: Sold his guitar and invested the money in a tiny restaurant space near campus.
Jayson Edwards was a student at Brigham Young University. One day he was walking along a street and realized that he could start his own hot dog stand. He had spent two years living in Canada where he had eaten really good hot dogs and realized he missed those dogs–and other people would probably enjoy them, too.
In 2004, he pawned his electric guitar and invested the money in a tiny (12'x12'!) shack not far from campus. The business has been thriving ever since.
Edwards keeps a very simple menu: two kinds of dogs (polish or beef), soda, chips,and condiments. But, he does have one trick up his sleeve: he uses a "secret sauce" that was taught to him by his grandmother.
Initially popular among other college students, his restaurant J Dawgs is now in six locations around Utah. He's also diversified his revenue streams. Each location sells T-shirts and J Dawgs offers catering services. And to think it all started from a guitar.
Top 3 Lessons and Takeaways:
Specialize. Sometimes the more niche you are, the more profit you can earn. J Dawgs' menu is extremely simple and extremely good. They've focused on what they're good at (hot dogs, buns, sauce, atmosphere) and replicated it. No need for frills or menu changes.
Secret Sauce! Every company needs a secret sauce. Offer something that no one else does, that no one else possibly can. That way even if another delicious hot dog place popped up, J Dawgs still has the sauce everyone loves. A little touch of exclusivity goes a long way for your brand, and your customers.
Use Your Resources. Edwards had taken a class in entrepreneurship before starting his business, but after starting he continued utilize his school's center for entrepreneurship. Take a class. Get a mentor. And just start! Edwards didn't have any capital, so he created it by pawning his guitar. Universities are full of resources.