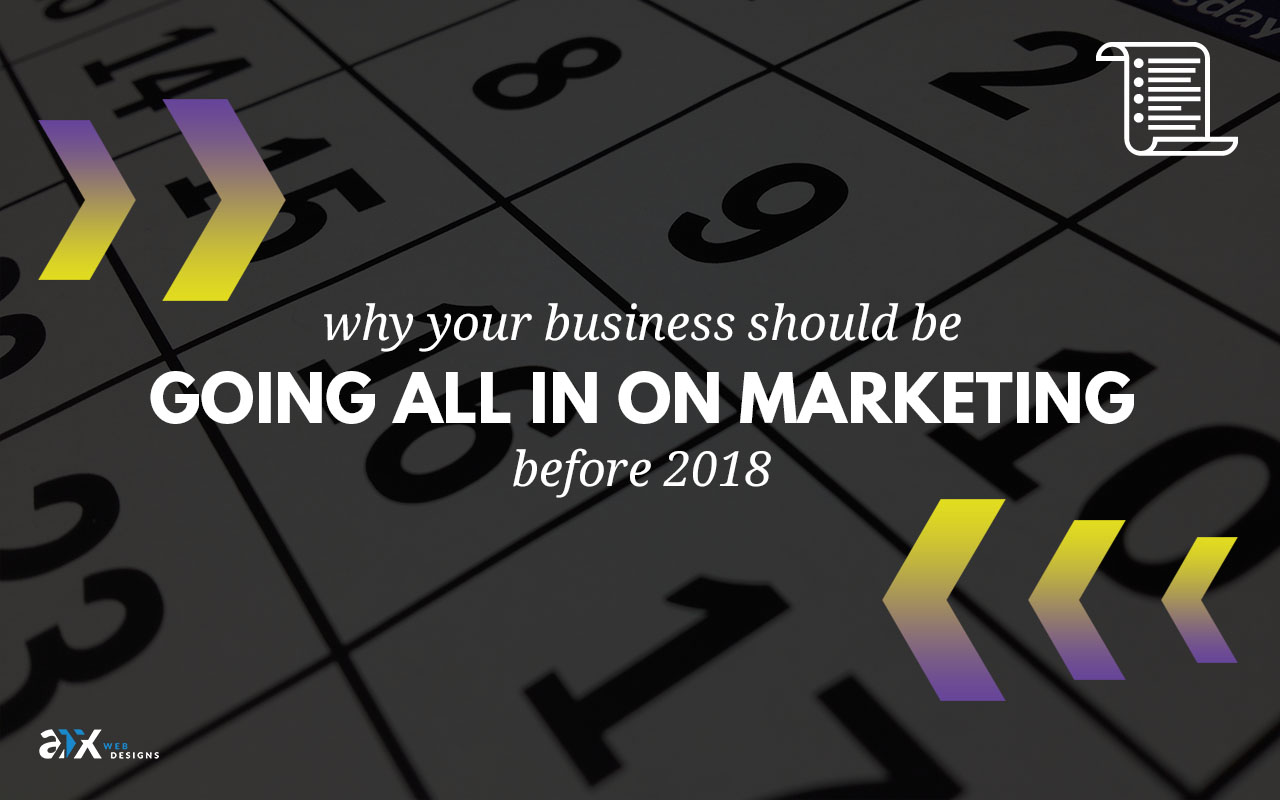 Why Your Business Should Be Going All In On Marketing Before 2018
Why Your Business Should Be Going All In On Marketing Before 2018
We talked last month about how important it is to start marketing for the holidays months before the holidays arrive. Thanksgiving, Black Friday, Christmas, New Years. They're all coming up fast. People have gifts to buy, sales to take advantage of, and New Year's resolutions to spend money on! They want what you're offering and they want a good deal.
The problem is: you've got competition. You're not the only one with your product, and yours really isn't the only one on the market.
Always Be Closing Marketing
Corporations sponsor things like conferences. Really big corporations sponsor really big things like stadiums and arenas.
Can you imagine that? You're planning your marketing budget for 2018 and it includes a an $18B line item for stadium naming rights. How's that for competition?
The point is: your marketing can't just be good. It has to be better than your competitor's.
That's why your marketing is so important. You have to be thinking about your market, but also about your competitor. Your campaigns have to connect with your customers better than your competitor's does. And just like in a real game, you have to always be upping your game, outsmarting your opponent, changing your strategy mid-game so that when that shot opens up, you get nothing but net.
The Year Is Almost Out. What Do You Have Planned?
Facebook ads. Influencer campaigns. Sales and sales pages and extra big discounts.
Those are great! Truly. But think about your marketing as a way to connect with your customers. You know your customer better than anyone. You know the problem your business is helping them solve. Right? (If I'm wrong here, you need to rethink your marketing strategy and ensure it includes some damn good research.)
Now zoom out a little and figure out how can you add value. What can you give these people, in this busy, crazy (but beautiful, cheery, feel-good) season that would really add value to their lives.
Or, to their Facebook feeds at least.
Put out content that's funny, pretty, inspirational, useful, helpful—whatever's going to connect with them.
(But, like, genuinely connect. Don't be all smarmy about it.)
How Will You Ring In The New Year?
I'm not talking about watching the ball drop!
You're going all in for the rest of this year, you're killing the competition and connecting with your customers. Whatever big business goals you have for the new year, go after them in full force right now(!).
Connect with them now so that after the holiday madness has passed, you can ring in the new year with new customers.