As an web design and online marketing firm, we understand how easy it can be to get caught in the trend of what other marketers are doing; whether it be blogging, local search marketing, search engine optimization or SEO, video creation, or guerrilla marketing, there are endless options.
To be quite frank, we can't do it all. Therefore we choose which platforms and direction we're great at and focus on that, because if we only give a portion to each platform we reduce our chances of have a successful return for our clients.
That being said, there's one modern day dominating force in today's society: social media. It's no secret that you (like us) more than likely check you Twitter feed, Facebook page, and Instagram numerous times during the day. Well, guess what? Your customers are doing exactly the same.
This isn't too surprising, but it doesn't mean you should be tossing all you dollars into every social platform there is. Although, there is one social network which you shouldn't ignore. FACEBOOK. Here are five great reason why you should be advertising on facebook.
#1: Your Target Audience Is On Facebook
Facebook's user base is bigger than the population of China! To be precise, Facebook has 1.49 billion members worldwide and 22 billion ad clicks per year. This allows businesses to have huge advertising opportunities. With numbers like that, your audience is definitely somewhere on there. It's just a matter of locating them (which is discussed in reason #3), but if you're having doubts, have another look at those stats.
#2: Facebook Ads Are Very Cheap & Cost Efficient
The reason you should advertise is because the traction you're getting from organic activity on your business Facebook page isn't yielding results.  Unfortunately, it proves the organic reach days are long gone. Your posts aren't showing up in your audience Facebook news feed.
The upside is that Facebook ads only cost a fraction of what other online marketing may cost. We've ran facebook ads for $5 per day and was able to reach 200 people, whom all came to our website. You can't beat that.
If you have a set budget, that's even better because you can set a daily Facebook budget so that you don't exceed what you spend.
In essence, it's not about how much Facebook costs, but how far your money will take you. If you go into advertising with a strategy and focus, the ROI you receive will be incredible.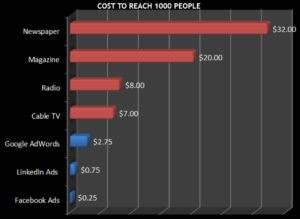 In terms of cost, to reach a thousand people, Facebook is far less expensive than all other platforms, including online and offline marketing.
You can spend $1 a day on Facebook ads, and reach 4,000 people that would've never seen you otherwise. That's $30 a month. If you can't afford that, then you may not be in business for long.
#3: The Targeting Capabilities of Facebook Are Outstanding
Because you scale so much detail, Facebook targeting capabilities is beyond belief. Not to mention the options of ad types, such as video ads. You can literally target President Barack Obama or his wife Michelle Obama. It can be age range, ethnicity, languages, geographical locations, demographics, behaviors, interests, or connections, you can get really detailed with the targeting capabilities and structure them with each other to increase your chances of getting rid of any users that aren't your target audience.
#4: Facebook Is Effective to Push Potential Leads Down the Funnel
Still not convinced? Try re-marketing by custom audiences. This is a great strategy that does wonders. Remarketing words is targeting a specific audience that's been to your website already, and would be more likely to show interest in your services or products.
#5: Facebook Allows You to Find New Qualified Leads Easily
When you've found your target audience, and getting them to convert effectively, you can duplicate them. This is called "lookalike audiences" where you can take that custom audience and have Facebook reach others that are similar to that audience, and likely to be interested in what your business offers.
Lookalike audiences are built with conversion pixels, data from installed mobile apps, or those that have liked your Facebook business page. You can also breakdown the size and targeting options to increase your chances of lookalike audiences accurately reflecting your target buyers.
This takes some guesswork out of targeting for user acquisition, which leads to a revenue increase.
Are you doing Facebook ads, or interested in doing them? If not, you should be! No matter if you're looking to get more likes, shares, or convert users into leads, we can help you get started. Contact us for FREE advice on the best way to advertise your business on Facebook.
ATX Web Designs is an web design firm based in Round Rock & Austin, Texas. We don't just build websites, we build websites that build business.